Get link

Facebook

Twitter

Pinterest

Email

Other Apps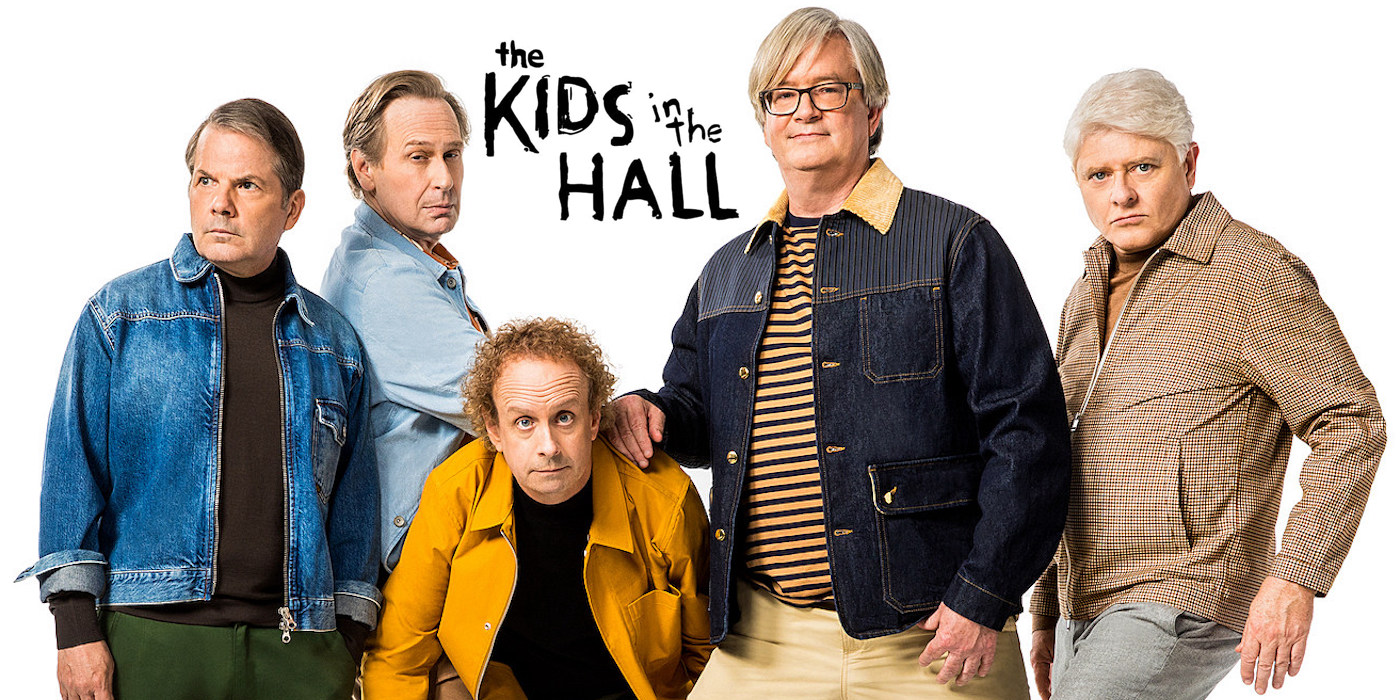 In 1989, The Kids in the Hall sketch comedy show hit Canadian television station CBC, and was also on HBO in the States. I was a young boy of eleven years of age, and I instantly fell for the tone of the jokes and the personalities of the five members of the group. There have been classic moments that I still fondly remember today, and occasionally I search out some of my favourite sketches on YouTube. From soup in a bag to the king of empty promises and all of the Daves I know, it is all close to my heart.
I can now thank Amazon Prime for feeding me a happy dose of nostalgia. An eight episode series has been created and released, which each of the members returning. When I heard of it, my first thought was oddly, 'I wonder if they will get Bellini to return wearing nothing but a bath towel.' I'm not sure why this immediately jumped in my head, but the answer is yes. Paul Bellini is back, as well as some incredible cameos. I have only so far seen the first two episodes and have seen Pete Davidson and Catherine O'Hara, one of the funniest people on the entire planet.
IMDb tells me that there are many more cameos to come, but the real highlight is the main members returning in top form. I have been amazed and blown away at just how well they have gotten right back into the form of comedy that made them popular enough to win multiple Gemini Awards as well as collect some Primetime Emmy nominations.
What I need to state, however, is that they are making the most of being on a streaming service and not having to comply with the sensitivities of television. The form of humour remains, but they have now been let loose to take things as far as they desire. This means the show won't be for everyone, but hardcore fans may find this to be video bliss.
There were many laughs to be had in the first two episodes, and I have a lot of anticipation for the six that remain unseen to me. What I enjoy the most is seeing these five men back together. Dave Foley, Bruce McCulloch, Kevin McDonald (who is my favourite), Mark McKinney, and Scott Thompson hold a much loved piece of my heart and were comedy heroes of mine. I can admit that I got rather emotional watching the intro of the first episode and witnessing something that I didn't believe I would have ever seen again.
When it comes to my personal favourite Canadian comedy, that honour goes instantly and easily to Schitt's Creek, which is one of my favourite shows I've ever watched. There have been some really great Canadian comedy series over the years, like Kim's Convenience and This Hour Has 22 Minutes. They all show the world that while Canadians are kind and apologetic, we can also be funny. Having the return of The Kids in the Hall does give me national pride. Hopefully the reach of Prime Video will help others around the world reacquaint themselves with The Kids, and that many more will be introduced to a fine Canadian export.
Get link

Facebook

Twitter

Pinterest

Email

Other Apps
I'm smarter than a bat. I know this because I caught the little jerk bat that got in my apartment, before immediately and inadvertently bringing him back in. So maybe I'm not smarter than a bat.