Get link

Facebook

Twitter

Pinterest

Email

Other Apps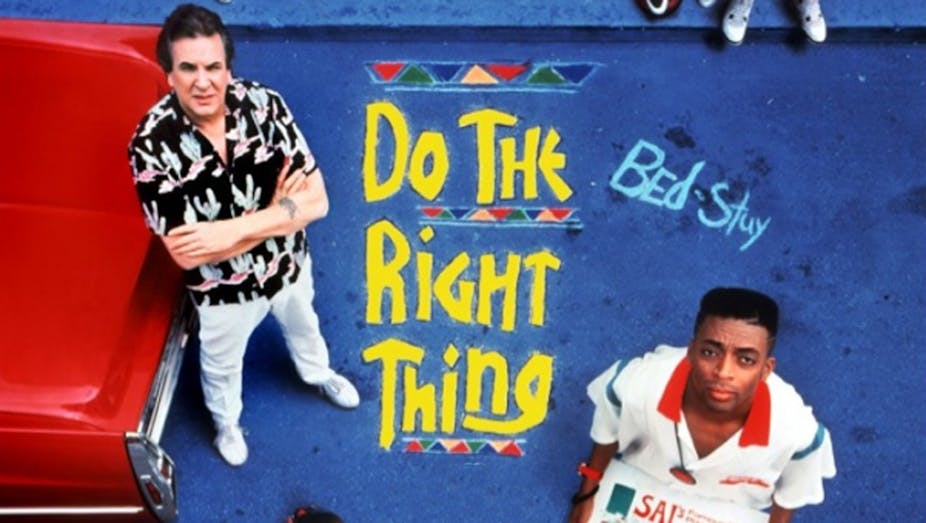 Note: This review for
Do the Right Thing
was originally posted on my blog in April of 2020. Little did we know that it would be two years before we were able to do our Summer Box Office Challenge, which I once again lost in stunning style. Chris went easy on me and picked a classic that I had not yet seen. Here is the review as posted on April 22, 2020:
Once again, this is one of those reviews that revolves around the fact that I lost a bet. The difference with this film over the countless others is that it was chosen for me because it is a classic that I hadn't seen yet. My podcast co-host, Christopher Spicer, had decided to be a decent human being. He won't do that again. Not after I put off watching this movie for half a year. He has declared mercy to no longer be given me. I accept that.
Spike Lee's
Do the Right Thing
turned out to be as much of a classic as I had heard. The film is a deep dive into cultural identity, primarily looking at the black experience in Brooklyn. Lee doesn't focus solely on that perspective, and the different elements added to the story make it both more profound and more accessible.
The film focuses on pizza delivery man, Mookie, played by Lee. Mookie is the vessel that we the audience see the film through. He is about patience, and yet also about standing up for yourself. Mookie works for Sal, played phenomenally by Danny Aiello. Sal has been in the neighbourhood for years, making pizza and feeding the locals. For him, he is as much a part of the neighbourhood as it's residence.
The locals don't see it that way. He is white, and they are black. Within the walls of the pizzeria, Sal has the photos of many of his heroes. For him, the people he looks up to are Italian Americans who achieved success. Whether or not the audience is meant to believe is as right or wrong, the residents, in the form of Buggin' Out (Giancarlo Esposito) see it as an indication of the racial divide. He believes that there should be black representatives shown on the wall, and indication that Sal respects the people he's serving food to.
Is the audience to see it as Sal not respecting his clients? Should we side with him, or should we side with Buggin' Out? Does it really matter? I believe what is being highlighted here is the perceptions people have of each other, and how they identify. Lee is looking at different cultures and the things that can cause divides.
Well acted and well directed,
Do the Right Thing
is as important today as it was when it came out in 1989. One would like to think that society changes a lot as we understand the errors of the past. I would say that it does change over time, but it is clear that change doesn't happen nearly as fast as it should. My hope is that in twenty years we will be able to look back at this film as a relic from the past that educates on our history instead of a sermon that still needs to be heard.
Get link

Facebook

Twitter

Pinterest

Email

Other Apps
I'm smarter than a bat. I know this because I caught the little jerk bat that got in my apartment, before immediately and inadvertently bringing him back in. So maybe I'm not smarter than a bat.